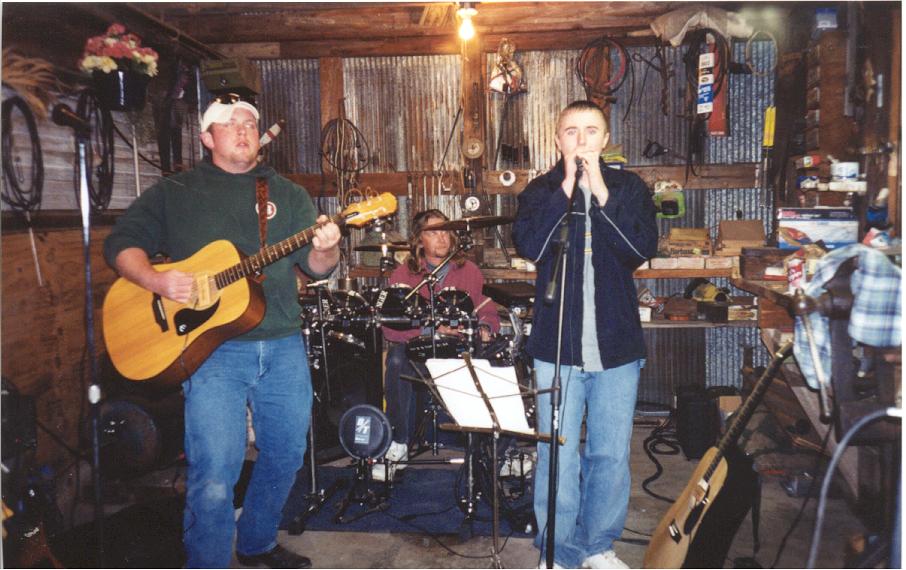 RSM Talks with Standing Alone
-------------------------------
RSM: Hi, How are you feeling?
SA: We're feeling really good right now how about you?
RSM: Pretty Good thanks. What catagory would you say your music is in?
SA: To tell you the truth we don't really know. Probably New Country/Rock.
RSM: What helps your write your lyrics to your music?
SA: Mainly things that happened in the past. Sometimes other artists songs give us inspiration.
RSM: What instruments do you guys play?
SA: Scott: Guitar & Piano
Josh: Guitar,Piano, & Trombone
RSM: What direction is the band moving in?
SA: Right now its kind of on pause.... Josh is moving to California for college. We hope that sometime in the near future we can get back together and write some music, but we are still writing and sending cds back and forth to each other.
RSM: I read on your previous website that you guys weren't always called Standing Alone. How many names have you had?
SA: Yeah, we have had alot of names- Spaydz,Turn the Page, & Shade.. Oh yeah one last name Cold Faith.
RSM: Thanks talking with us and good luck.
SA: No problem it was fun, take care.
SA LINKS
-------------------------------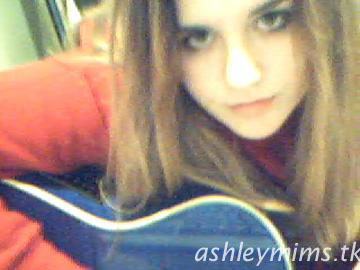 RSM: Hi, How is everything?
Hi! Things are good; thanks for asking.
RSM: I read that you are a representative of Aware/Colombia Records. That is really really awesome how did you get the job? Do you wish in the Future to work for a record company such as an exectutive?
Yeah..being a rep is really fun and gives a lot of great experience. They were looking for reps at the time (and probably still are for anyone who is interested) and I just emailed them. Basically what reps do is promote music around their town and work shows that come to their area. Working at a record company would be cool and help me to get a foot in the business. I'd like to be an A&R rep.
RSM: On your website ashleymims.tk it is about you wanting to start a band. What kind of music do you want to play? also would you be willing to try anything different such as a different musical style?
The kind of music I want to play is rock with a little influence of pop. Pop meaning it still has the hook to be played on pop radio. In the future, I would be interested in learning and singing in different genres, but for now I'm content.
RSM: What is your favorite song that you have written to date? Also what people/artists are you influences.
My favorite song I've written isn't finished yet..ha. It's called "Woven", though, and I love it so far. It's very personal. As for influences, I think everything you listen to will inevitably influence you. The artists who influence me personally are Hanson, Michelle Branch, Bryan Adams, and Rob Thomas. They're all great songwriters who put their heart into their music, and I totally respect that about them.
RSM: Thanks for having this interview with us- Take Care.
No, thank you! :)
http://ashleymims.tk/

TIMOTHY DARK INTERVIEW
RSM: Hi, Please Introduce yourself.

What's up Rockstar? Timothy Dark speaking; reppin for God.

RSM: What type of music do you do?

I do music that's meant to unite the world. Music devoted to God. Music inspired by God. I just put together a band. So now what was once just a show with me rapping over backing tracks is now a live fusion of God's word, Funk, Blues, Jazz, politics, and Hip-Hop. It's something to see. I can't believe it myself. Jesus Lives.RSM: What/Who are some of your inspiration

I would have to say God inspires me more than anything. Some of the songs of the album were written with tears running down my face. I don't really know where the words came from. I mean... I know they came from him, but I don't understand how. It was like I was a pen and God was using me to write on the tablet we call the world.
Pac (Tupac) was also a big influence on me because of the fire he had when he rapped. He had so much to say. It's unfortunate that he died so soon. He would have been a great leader. I lot of people say God had bigger plans for him, but the devil got to him first. I truly believe that. Hopefully more people will see the positive side of Tupac and not just the thug-gangsta stuff and run with that. Most of these cats are like the dead people in the 6th sense, they only see what they want to see. We need more positivity. Time is running out. Sometimes it looks like the devil is winning.
RSM: Is there anything that you would like to pursue that doesn't involve music?

I have plans to write a book after the new album is done. The book will be based on the struggles one faces walking the path to God both musically and in everyday life.RSM: Have you ever thought of trying any different types of music?

Well, my first album Dark Warrior had traces of Rock, Latin, and Alternative music, and on the road to creating the band I've fused many forms of music into my stage performance. Hanging out at the Sidewalk Cafe on Monday nights, and collaborating with the cats and chicks from the Antifolk scene has given me even more of an opportunity to hear some stuff I wasn't used to hearing before. All the harp, guitar, and piano keys all around you makes you wanna take your music to the next level.
So being in Rome, sometimes you gotta do like the Romans do. So I went out and bought a guitar. So you never know what might happen. Scary huh?RSM: Have you received any record deals?
No, but I've had management offers from many people which I've turned down. I don't like people telling me what my music should or shouldn't be. I'm a complete control person. My song, my way. My path. God's direction. So for me to accept a deal it has to be a distribution deal, or a label that gives me free run of things.RSM: If you could sign with any Label which label would it be any why?

The only labels I've seen that give complete control to artists are Antifolk indies Olive Juice, Unicorn Sounds and Fortified, so if its not them, I don't know who.
Once again, I need control. This is about God. How do u sign a revolution? A revelation? Most labels want you to change. They want to control you. How do you leave God and sign your soul away to the devil?
RSM: Thanks for your time and take care. You can type anything below like a message to your fans and future fans.

Don't ever let anyone tell you that you can't do something without a label or a manager. You don't need a label. All u need is God, and belief in what your doing. Read your Bible, repent, and accept him, and never give up, and you will succeed. We all sin. We all fall. Jesus fell. He got up and saved the world.
He loves you. God blezz. Jesus Lives.

TD
www.timothydark.com

RSM Interview w/ JORDAN AVE.
RSM: Hi, how is everyone in the band?
Jordan: We are all keeping busy!
RSM: What are your inspirations such as writing and performing?
Jordan: Just about anything and everything. Recently though, my friends have really been the ones inspiring me to write.
RSM: Do you do anything special when you write?
Jordan: You mean something like getting naked and dacing naked under the full moon with my guitar? Only on Tuesdays. :oP Of course, I am joking. Hehe. I can't really say that I do. I just hope I have a pen, paper and some music object on hand when I bit by the writing bug.
RSM: What is your favorite song you have written/co-written and why?
Jordan: Usually, my favourite song ends up being the one I wrote recently. However, I am still partial to an old one called 'Above It All' that I wrote for my friend Tracey(aka Taryn). She wanted me to write a song about her. I said sure, but blew it off. She kept asking me every day if I had writen it yet. Finally, after she had asked me for the millionth time, I wrote it. It wasn't forced or anything. It just sorta flowed right out of me. It's my favourite song because she's my friend and I love her dearly. Plus, you get to really rock out on it live.
RSM: What do you think about the Internet and helping Unsigned Artists?
Jordan: Information can be access a lot faster now throughout the world via the www. Of course, given the right lead it can be very useful at hand and very damaging at another. So, I guess it can go either way with me.
RSM: Do you play any other instruments besides the guitar?
Jordan: Bass, keyboard, drums, harmonica... You know, instrument stuff?
RSM: How long has the band been together?
Jordan: We got together when John got his band(Nuclear Food) to back me after him and his drummer had helped me with my solo demo I was working on at the studio in early 2002.
RSM: What would you say is the bands strengths and weaknesses?
Jordan: We play well live. We play well live.
RSM: Thanks for talking with us we are really busy and we imagine you are too.
Jordan: Thank you as well! Be sure to stop by the website sometime: http://www.jordanave.com